| | |
| --- | --- |
| Escrow Training Institute Classes | ELMS - Escrow Leadership Management School Classes |
All classes provide "take away" manuals/material and FREE after class support!
---
.
Manufactured Home Escrows
(Debbi Faber)
(Saturday, February 24th)
Tuition: $250 Includes Free Lunch
This Mobile/Manufactured Homes escrow class qualifies for P.D. Credits. Estimated credits - minimum 5!

Our workshop, facilitated by a known expert in Mobile/Manufactured Escrows, will cover the transfer/refinance process of existing homes and will provide an overview only on new homes and dealer transactions.

In this workshop you will learn about:
Size matters with older homes - DMV or HCD

Working with prior executed, but unprocessed title
Dealing with Park Management

Forms, including obtaining a replacement Insignia

Obtaining Tax Clearance and Retail Value

Foreclosures & Liens

433 Process

And much more
.
Preventing Escrow Fraud
(Chris Pruitt/Ray Moody)
(Saturday, February 24th)
Tuition: $129
Conducted by Chris Pruitt of Recon Works and Ray Moody, VP City National Bank, hear from the experts on what you need to know, what you need to do to protect yourself and your company from fraud.

Learn about the current scams perpetuated on escrow companies, banks and other industry entities and preventive measures needed to eliminate fraud possibilities.

Not too long ago- O.C. Escrow Company loses $1.5 million to escrow fraud. Procedures/safeguards not followed, per the DBO See other examples below!

Many escrow companies have been victimized by fraud in the past, paying a heavy price because of their lack of education and preparedness. Is this something your Company can afford? Probably not!

Common denominator? In part, lack of training, proper internal controls in place, and the misguided belief "it can't happen to me!" How can you implement controls to reduce your risk?

In this class you will learn how fraud with the public's funds occurs with the escrow file and inside and outside of your escrow office. What "bankers" are seeing and what is becoming more prevalent.

We will discuss the most common types of public fraud involving:

Current E MAIL scams/pass words/"tricks" scammers use
Cyber Fraud – never ending schemes to defraud
Thieves watching real estate sales transactions activity as gateway
Altered closing statements
Funds held during escrow
Falsified checks, receipts, and fee transfers/replacement checks to same payee
Outstanding checks and closed files with balances
Falsifying trust account bank reconciliations/forged checks
Outgoing wires (software virus infections to your computer)
Red flags
You will learn proven procedures and Industry "BEST PRACTICES" to greatly reduce and hopefully eliminate the probability of fraud. "Best Practices" hand-out provided with other material.
.
Escrow Marketing Service
(Patty Sather)
(Saturday, February 24th)
Tuition: $189
Want to learn more ways to generate business, whether in a "booming" or "slowing" market?  In this workshop you will explore ideas on how to market your Company's services and products from "behind your desk" and "in the field."
Successful escrow companies know the importance of marketing their services. However, often in the hectic day to day work environment, "marketing" is often the next thing to do!  This class focuses on three key elements: marketing strategies, tips and techniques; and the importance of managing the customer service experience through-out the business relationship.

You will learn and have a greater understanding about marketing from both sides of your desk.  From the office to the field.
Learn
How to create a Marketing Action Plan (MAP)!
What your agent thinks is important in dealing with their escrow officer!
How to handle "tough" requests, such as reducing your fees, special requests, etc.!
How to ASK FOR THE BUSINESS!
How to handle customer objections during the sales call!
Understanding RESPA Implications/Limitations
Tips on becoming more proactive in your marketing efforts!
What other people/companies are doing to generate sales!
Managing the sales call/training others to make the sales call!
How to take ownership of the customer experience!
Bring your questions to class for this guaranteed informative and fun workshop!!!

.
Notes & Deeds
(Aaron Lloyd)
(Saturday, March 3rd)
Tuition: $129.00
TAKE BOTH "Notes" and "C.A.R." SAVE $50.00 = $208.00
This is an excellent refresher class for the seasoned escrow officer, or for those less experienced individuals such as junior escrow officers, or others ready to learn about creating notes and trust deeds.

You will learn about different types of seller carry back notes and trust deeds and the purpose of each. You will also learn not only how to prepare these documents, but when and why! Depending on the situation, identify what phrases and language are required and how to eliminate losses by preparing the documents correctly.

Additional discussion points include:

Request for Notice of Default/Notice of Delinquency
Common phrases used in notes and trust deeds
Escrow for the sale of a note and trust deed
Working with individual beneficiaries
Balloon payments
"Red Flags"
And more!
The tuition for this class includes a very comprehensive workbook that can be used as your office reference.
Location: National University Costa Mesa Hours: 8:30 - 11:45
.
C.A.R. Contract
(Aaron Lloyd)
(Saturday, March 3rd)
Tuition: $129.00
TAKE BOTH "Notes" and "C.A.R." SAVE $50.00 = $208.00
C.A.R. (RPA) Contract & Joint Escrow Instructions

Regardless of time within the industry, every-one in escrow needs to be completely familiar with all aspects of the C.A.R. Contract.
During this class, you will undertake an in depth and thorough review of the California Association of Realtors (C.A.R.) contract provisions and requirements. Extensive Manual material!
NOTE: This FOUR hour workshop received EXCEPTIONAL reviews (Instructor, Aaron Lloyd and his material) during our previous classes!
Our class will cover:
History and Evolution of the C.A.R. Contract!
Understanding the NEW Residential Purchase Agreement & Joint Escrow Instructions!
Identifying Escrow's Duties and Responsibilities under the Contract!
Time Line Requirements!
"the Notice to Perform", "Initial Deposit", "FHA/VA Notice Requirements", "Contingencies", "Cancellation/Pre-Cancellation Requirements", "Appraisals", "Inspections", "Home Warranty Coverage".
Underlying Forms!
C.A.R. Requirements YOU Must Know!
Recognizing What IS and IS NOT Escrow's Job!
And More!
Location: National University Costa Mesa Hours: 12:15 - 4:00
.
Escrow Documents & Amendments
(Donna Inman)
(Saturday, March 10th)
Tuition: $129.00
TAKE BOTH Escrow Doc and Prorations and SAVE $50.00!
During this class you will review and discuss a variety of basic escrow Documents and Amendments to the escrow. This class can be used as a "refresher" course or is ideal for the newer employee who is unfamiliar or has had limited exposure in completing escrow documents and/or amendments. Excellent and abundant escrow documentation samples are provided each participant for later reference. Learn about:

Commonly used escrow documents
How to examine and take action on the sale escrows Prelim
The Differences between Grant & Quit Claim Deeds
Use of Affidavit – Death of Joint Tenant
PCOR Requirements
Subordinate Agreement
Power of Attorney-General and Special
Requests for Notice of Default; Substitution of Trustee and Full Reconveyance
How to Write Amendments to Your Escrow
And Substantially More! Great reference material provided.
Location: National University Costa Mesa Hours: 8:30 - 12:00
.
Prorations & Balancing the File
(Donna Inman)
(Saturday, March 10th)
Tuition: $129.00
TAKE BOTH Escrow Doc and Prorations and SAVE $50.00!
Remove your frustration in completing "manual" escrow computations! You will leave the class room with a higher level of confidence!
Always a class favorite! From computing Documentary Transfer Taxes to balancing your file, you will be actively engaged in a variety of escrow related calculations, from computing interest, taxes and more!
Using examples and case studies, supplemented with "take home" hand-outs that can assist you back at the office, participants will put their heads down, turn on the calculator and learn the manual way to complete the calculations AND how to explain it to your customer!
Don't forget to bring your calculator to class!
In addition to several "take away" templates, this class will focus on the following:

Completing the calculations
Understanding the Funding to Closing Process
Understanding how to compute "Doc Tax"
Recognizing important Tax dates and deadlines\
Correcting out of balance conditions
And a lot more!
Location: National University Costa Mesa Hours: 12:30 - 4:00
.
A Day of Education
(Saturday, March 10th)
Registration 8:30 - 9:00am
Educational Sessions - 9:00 - 3:00pm

Please note:
ALL registrations processed through O.C.E.A.


Click brochure for full details and registration information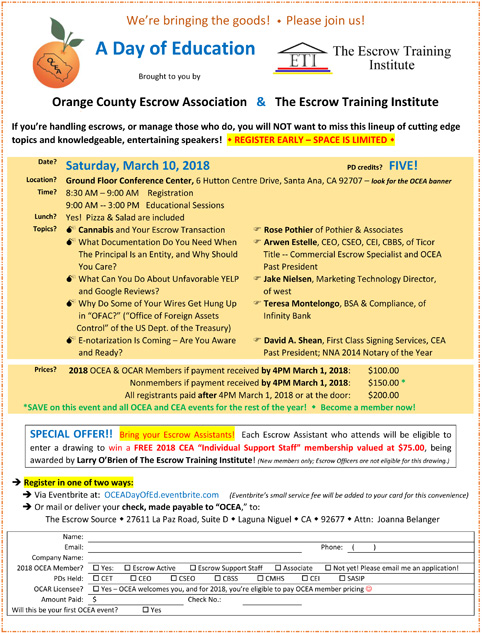 ---
.
Commercial Escrow I
(Dennis Chaplin)
(Saturday, March 17th)
Tuition: $395.00
LESS $100.00 if registered/paid by March 9th, 2018
This class qualifies for C.E.A. approved Professional Designation Credits!


Our Commercial Escrow I class is conducted by a former President of O.C.E.A. and an industry recognized expert in Commercial escrows.
This specialty escrow class is for the beginning/intermediate Commercial practitioner. Taught by a Certified Escrow Instructor (CSEO, CEI) and top Commercial escrow producer, you will learn more about the Commercial process while eliminating the fear of those intimidating numbers, contracts and processes.
In this class you will learn about the following:
Comparison and In-Depth Review of the Three (3) Common Commercial Escrow Contracts!

Escrow Instructions, Wrap Instructions, No Instructions Commercial Processing!

Underlying Commercial Documents; Purpose and Use!

Formation Documents!

Identifying/resolving "red flags" that can stop/delay your Escrow!

Processing Requirements You Must Do!

Completing The Closing Statement!

Horror Stories – Learning From Mistakes!

"Tips", Techniques and Concepts to Save You Time/Avoid Errors!

Managing the Process While Staying Organized from Start to Finish!
.
HR Law – Wage & Hour and Compensation
(Paul Donsback)
(Saturday, March 17th)
Tuition: FREE**/$129

**This workshop is FREE for those individuals who attended our December 2017 workshop on "HR LAW". All other registrants, tuition is $129.00. Previous attendees call our office for your FREE registration.
Are you/Company in compliance with the 2018 California/Federal Wage & Hour and Compensation Laws? Compensation? Classification? How you handle breaks? Overtime? Bonuses? Commissions and more?

Few are experts! Our expert is Paul Donsback, Esq (Advocus Law Group), who will continue our December workshop in depth discussion. Questions were "flying" in December. A workshop you don't want to miss!.
California/Federal Wage & Hour & Compensation Laws – 2018
State & Federal Minimum Wage Laws

State Minimum Wage Amount 2018-2020

Exempt & Non Exempt Wage Classification Requirements

Minimum Annual Exempt Salary
-

Under 25 employees


- 26 & over employees

Overtime Pay

Commission Rules & Regs

Paying of Bonuses

Other Forms of Compensation

Penalties for Non Compliance

Pre-employment – VIOLATION - Gathering Salary History from Applicant

Breaks


-

Handling the person who doesn't want a break/lunch


- Rest


-

Meal Breaks


- Liability
- Exceptions
And other relevant information.
Location: National University Costa Mesa Hours: 8:30 - 12:00
.
Bulk Sale Escrow I
(Aaron Lloyd)
(Saturday, March 24th)
Tuition: $395.00 LESS $100.00 if registered/paid by March 17th
FREE after class support!
This class starts with the basics. What is a Bulk Sale escrow? What escrow processing differentiates it from residential? From Commercial Escrow? What are the commonly used documents in a Bulk Sale escrow? Where do you start? What do you do? What about Publishing? Working with outside Agencies?
In easy to understand language, this class will provide you with your foundation to begin processing Bulk Sale Escrows with confidence!
Among the many things covered will be:
Steps in Processing the Bulk Sale Escrow
Information Needed to Open the Escrow
Commonly used Bulk Sale Escrow Documents
Tax Liens and Judgment Searches
Publishing and Filing of Notices, Transfers, Fictitious Business Names.
What "timelines" do you need to know!
Recognizing and Dealing with Bulk Sale "Red Flags"
Working with Alcohol Beverage Control and Other Agencies
Managing the Process – Start to Finish!!
Sourcing Bulk Sale Escrow Business!
Excellent supporting material (manual) is provided!

Subject to availability, one or more guest speakers will address the attendees and provide additional handout material. FREE after class support!
.
Escrow Leadership/Mgmt (ELMS) Conference -
Opening Doors-Leading the Way
Friday, April 6th (10:00 – 4:00)
Saturday, April 7th (9:00 -4:00)


Stay tuned! More information to follow shortly!